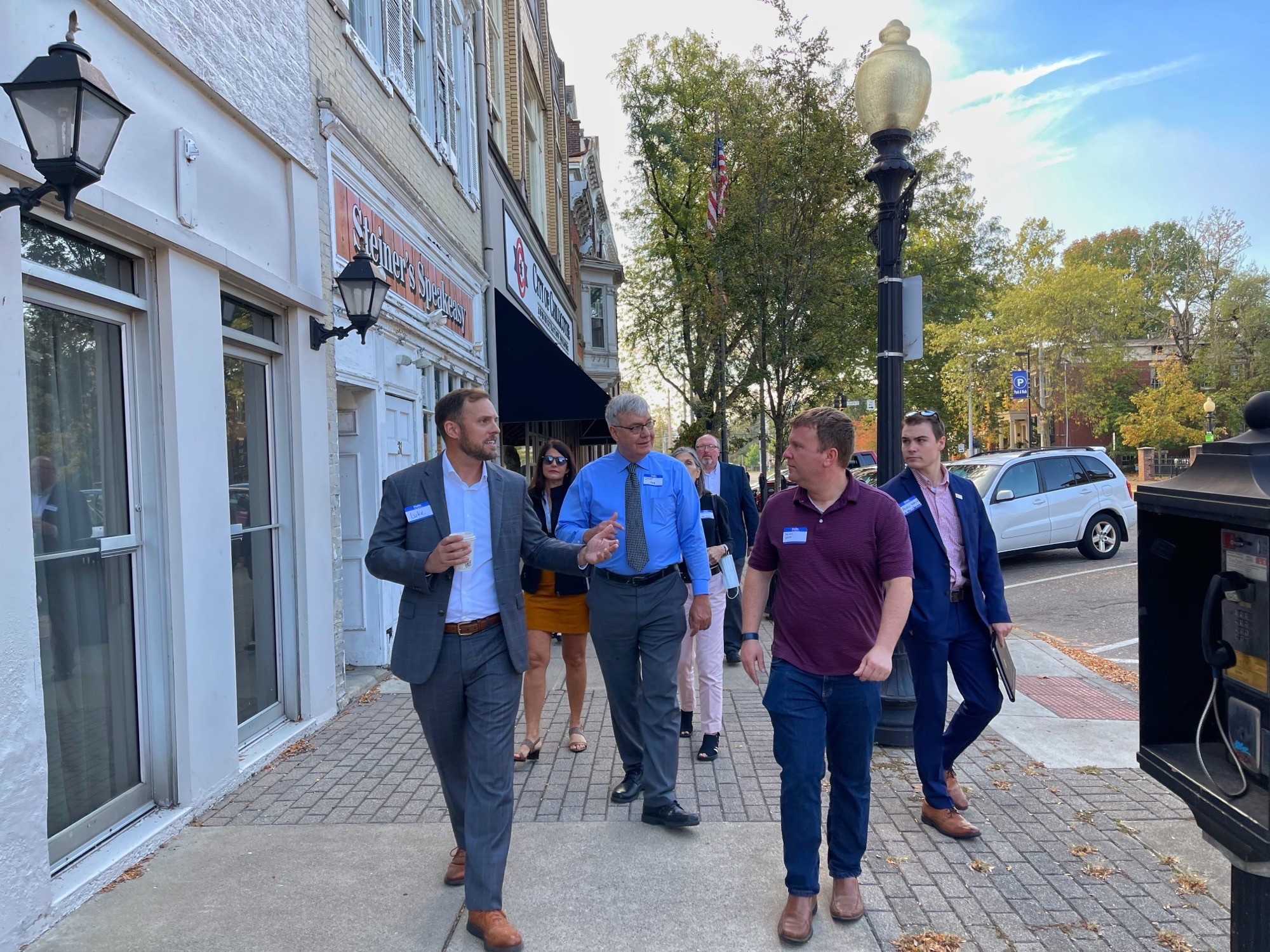 Small Nation was in Ohio's first and third capital last week to tour the town and visit with the Mayors' Partnership for Progress. On Wednesday, October 13, Small Nation Founder and CEO Jason Duff traveled to Chillicothe, Ohio, and toured the downtown area with the mayor and other local community leaders and presented on Small Nation's work to the partnership.
Joining the Small Nation team in Chillicothe was John Carey, Director of the Governor's Office of Appalachia.
On the tour, the group visited businesses such as Paper City Coffee, an inspirational local coffee shop that funds their accompanying nonprofit to mentor local teens, and the Fort Collective, a community space with private offices, a coffee shop, and incubator business spaces. The tour also stopped by to see 50 West Brewing Company, the Pour House at Machinery Hall, and Chillicothe's 158-year-old Majestic Theatre.
"The visit by Small Nation was reassuring in the sense that we're proud of what we've accomplished as a community, but it also opened eyes to how much potential we have. Having the chance to see downtown through Jason's eyes and watch him engage with our entrepreneurs was a compelling experience," said Luke Feeney, Mayor of Chillicothe. "Jason's questions were specific and showed his familiarity with the challenges faced by legacy city business owners, and the conversation often led to practical tips that could be implemented today. Everyone who had the chance to participate left wanting more and fired up to make exciting things happen in Chillicothe."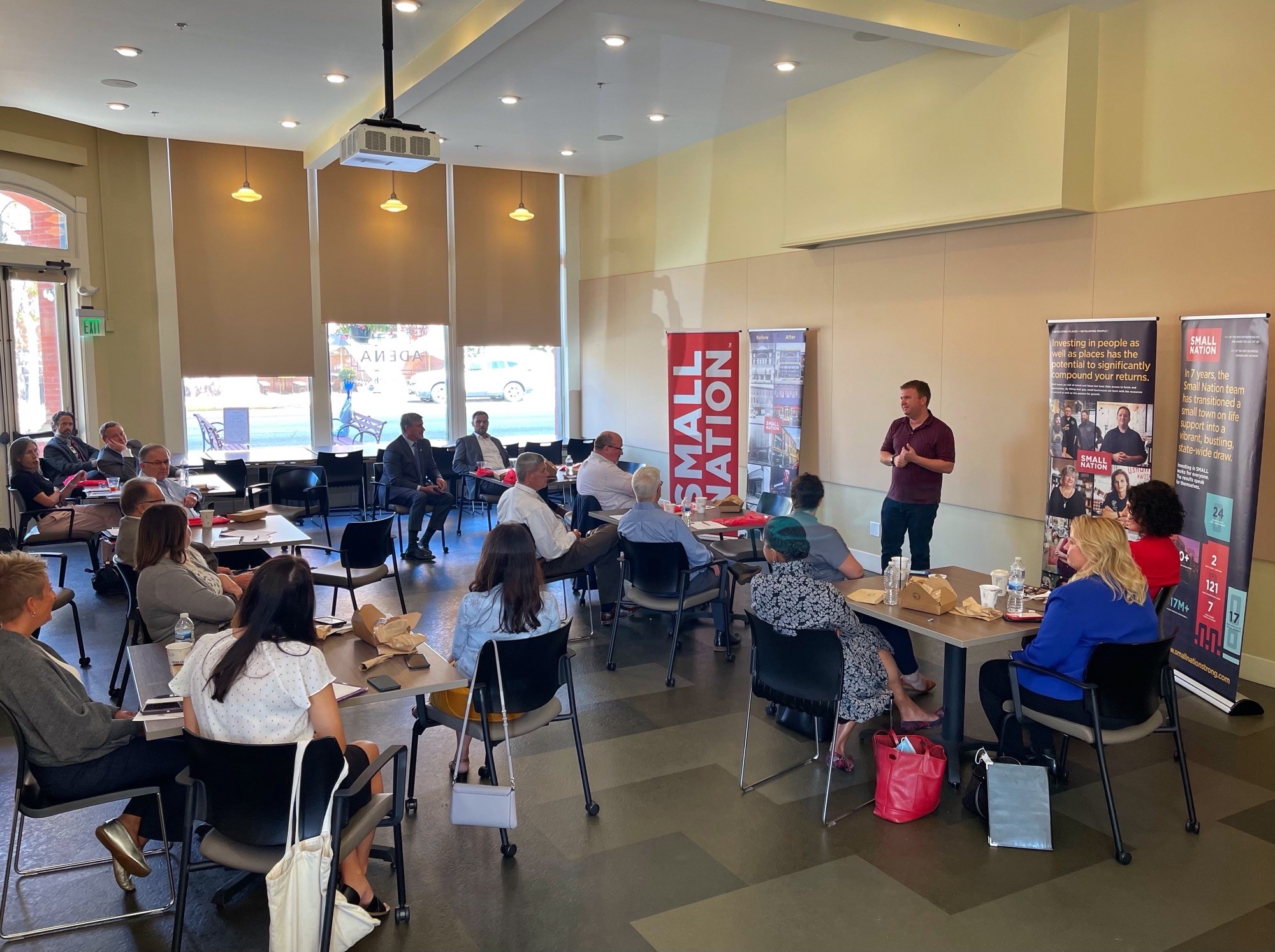 The Mayors' Partnership for Progress is a strong group of southeastern Ohio leaders working to tackle issues common throughout the region. The partnership covers 18 counties in Ohio's Appalachia region and prioritizes community reinvestment. Duff's presentation to the organization focused on growing and supporting local businesses, investing and creating new and renovated housing, and talent and workforce development. Mayors from Logan, Marietta, Athens, Chillicothe, and more communities attended the presentation along with representatives from the Governor's office, Lt. Governor's office, Congressman Bill Johnson's office, and JobsOhio.
Steve Patterson, Mayor of Athens and the President of Mayors Partnership, said, "it was a pleasure having Jason Duff and Small Nation join us in Chillicothe for our monthly Mayors' Partnership for Progress meeting. Their excitement for entrepreneurship and commitment to community transformation is awe-inspiring. We are grateful for their time and engaging conversation with our members. We are looking forward to future opportunities to work with Jason and his team."
"What a beautiful town! It's been 15 years since I've been to Chillicothe, and I can't believe how much good has happened and all of the positive changes," Jason Duff had to add. "I can't wait to come back in a few short weeks for another visit!"
About Small Nation:
SMALL NATION develops places, spaces and dreams for small towns and small-town entrepreneurs across the country. They create revitalization concepts and plans for towns, create business concepts, brands, and workforce solutions, then market it all in the name of small-town success.
To learn more about Small Nation, visit www.smallnationstrong.com or follow them on social media at @smallnationstrong.