SMALL B* SCHOOL
is an online training center where small businesses and small towns can learn how to start, revive, grow and thrive. Join Small Nation's nationally recognized leaders in a series of downloadable lessons, videos, workshops and coaching sessions designed to equip you with the knowledge and skills for success.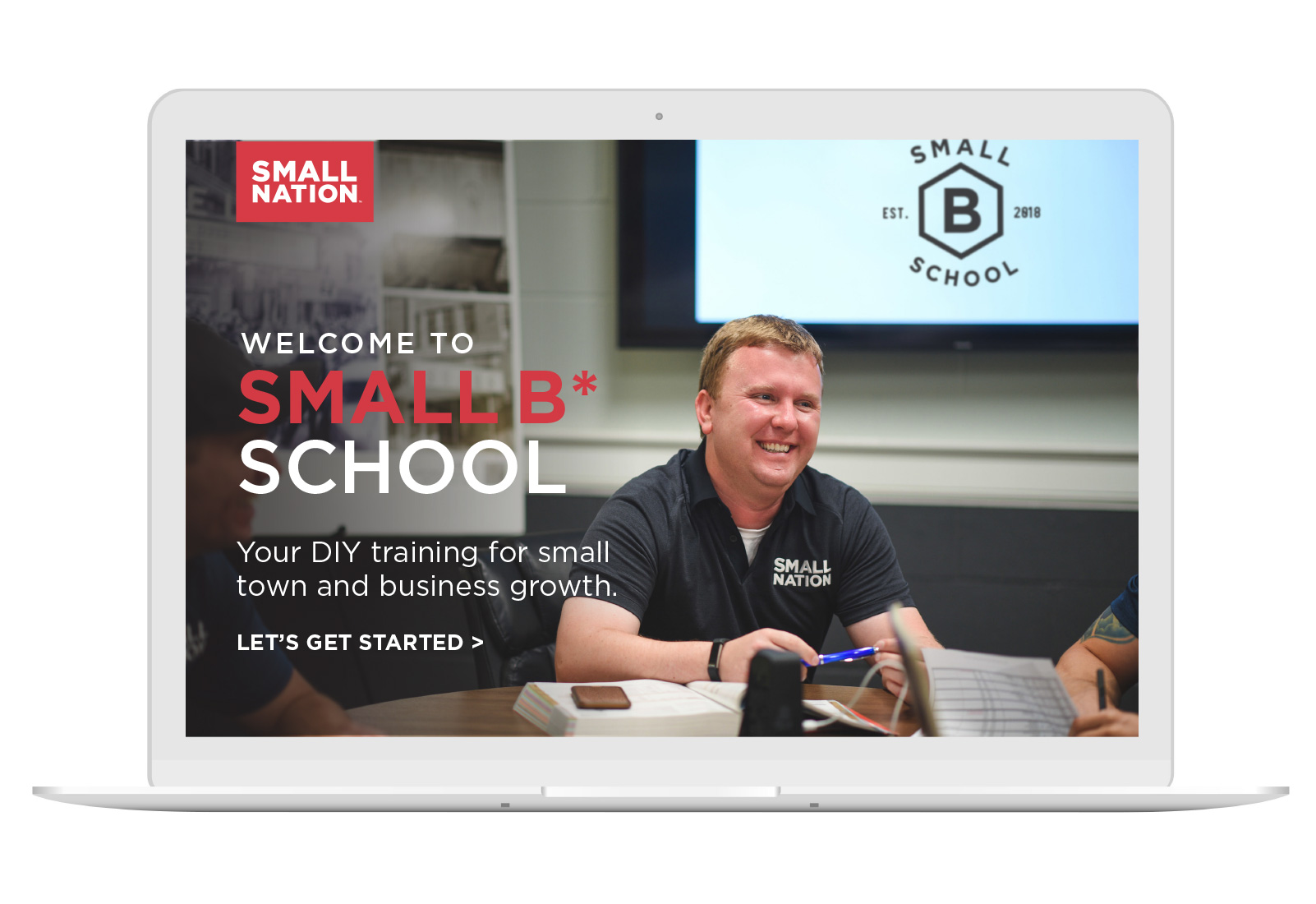 | SMALL B* SCHOOL |
We've learned a lot of lessons over the years. Now we're taking what we learned and sharing it with all of you.
We believe that small businesses in small towns are the future. We believe it so much in fact, that we've dedicated our lives and our livelihoods to making sure they both thrive. We're launching SMALL B* SCHOOL with a one-on-one program designed to help municipalities or small town developers learn how to DEVELOP DIFFERENTLY. Join the SMALL TOWN MASTERMIND PROGRAM, and learn how to change your town through direct conversation with the Small Nation team.

MEET FACE-TO-FACE WITH THE SN TEAM
RECEIVE REAL LIFE IDEAS AND SOLUTIONS
CREATE A STRATEGY FOR YOUR TOWN
Ready to take your small town to the next level?
TIME TO MASTERMIND.
| LAUNCHING 2021 |
Get ready to meet face to face with the Small Nation team and receive expert advice, suggestions and feedback designed for your town's unique situation.
Is your small town in a state of decline? Need help navigating push back from city leaders? Ready to invest in historic properties but aren't sure where to begin? Join the SMALL NATION MASTERMIND GROUP and learn directly from those who have been in the trenches and have achieved success!
Hosted by Jason Duff and the Small Nation team, the SN MASTERMIND GROUP is a year-long program for small towns or small town entrepreneurs who are truly ready for change.
IN THE MASTERMIND GROUP, YOU WILL:
Meet quarterly for 1 year

Share your town's needs, and receive input designed especially for your unique situation.

Tap into Small Nation's wealth of small town revitalization strategies and small town development techniques.

Brainstorm creative ideas for success with a group who can help you push concepts into realities.

Join a community of like-minded peers who have come together to learn, to grow and to HUSTLE HARD toward success.

Benefit from other small towns and small town entrepreneurs who will be sharing what's working for them… and what pitfalls to avoid.
Space in the Mastermind Group is limited,
so reach out today.