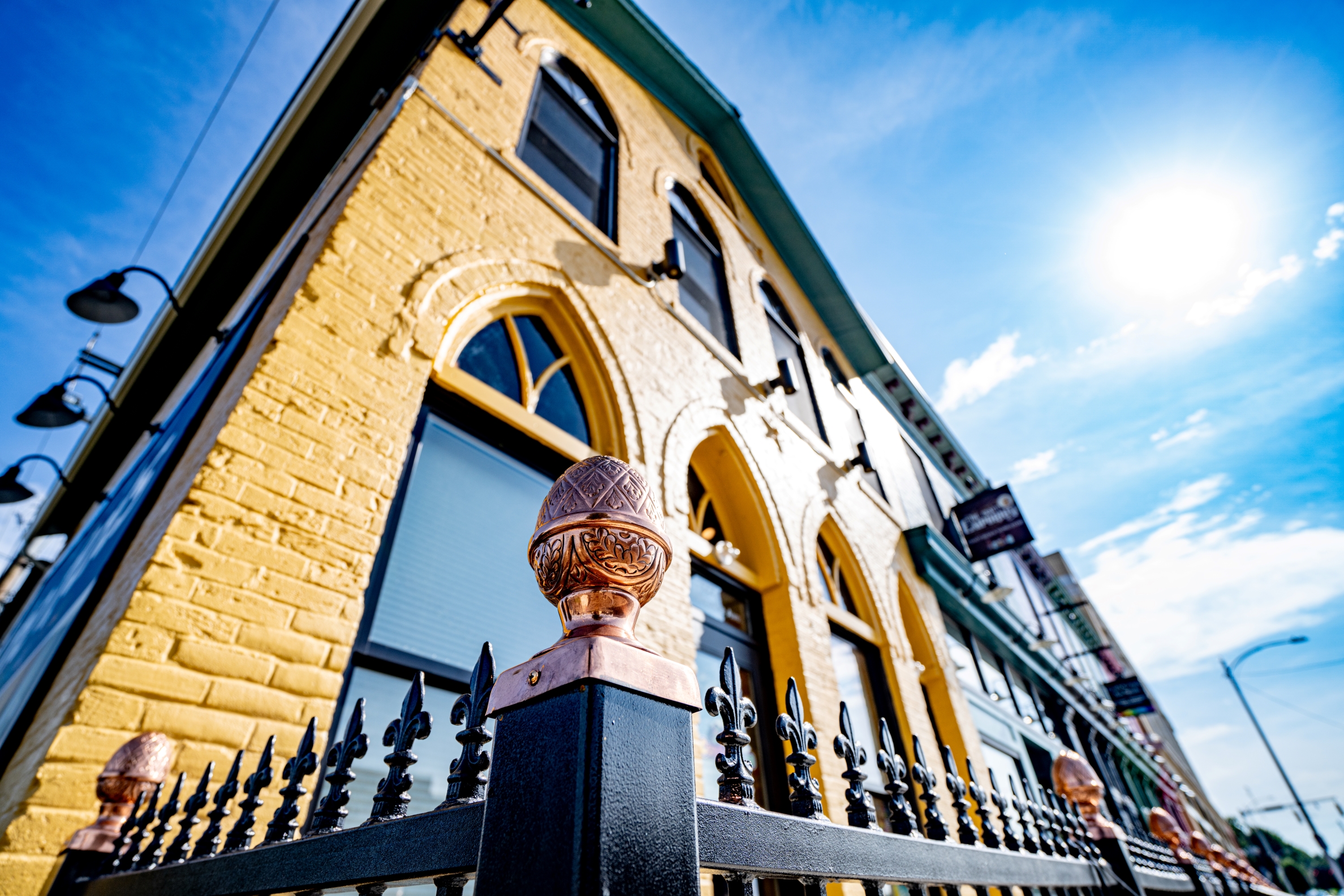 November 13, 2023 – Revival Design Collective, Small Nation's architecture and design partners, were recognized by the American Institute of Architects – Dayton chapter with a Merit Award for Rainbow Row Bellefontaine last Thursday. The Focus on Design Awards Celebration, hosted at the Steam Plant in downtown Dayton, was established to promote and focus attention on architecture firms producing high quality and high-performance design.
Rainbow Row Bellefontaine is a five-storefront historic building in downtown Bellefontaine purchased by Small Nation in August 2021. After emergency and structural repairs were completed, Small Nation partnered with Revival to lead the architecture and design work for the project, paying homage to the original Rainbow Row in Charleston, South Carolina. Construction on the project was completed by Level MB Construction in August 2023 and now features five new businesses and seven new short-term rentals upstairs. Small Nation and Revival have also teamed up on projects such as the Syndicate and the Flying Pepper Cantina, both of which have also been recognized by AIA – Dayton.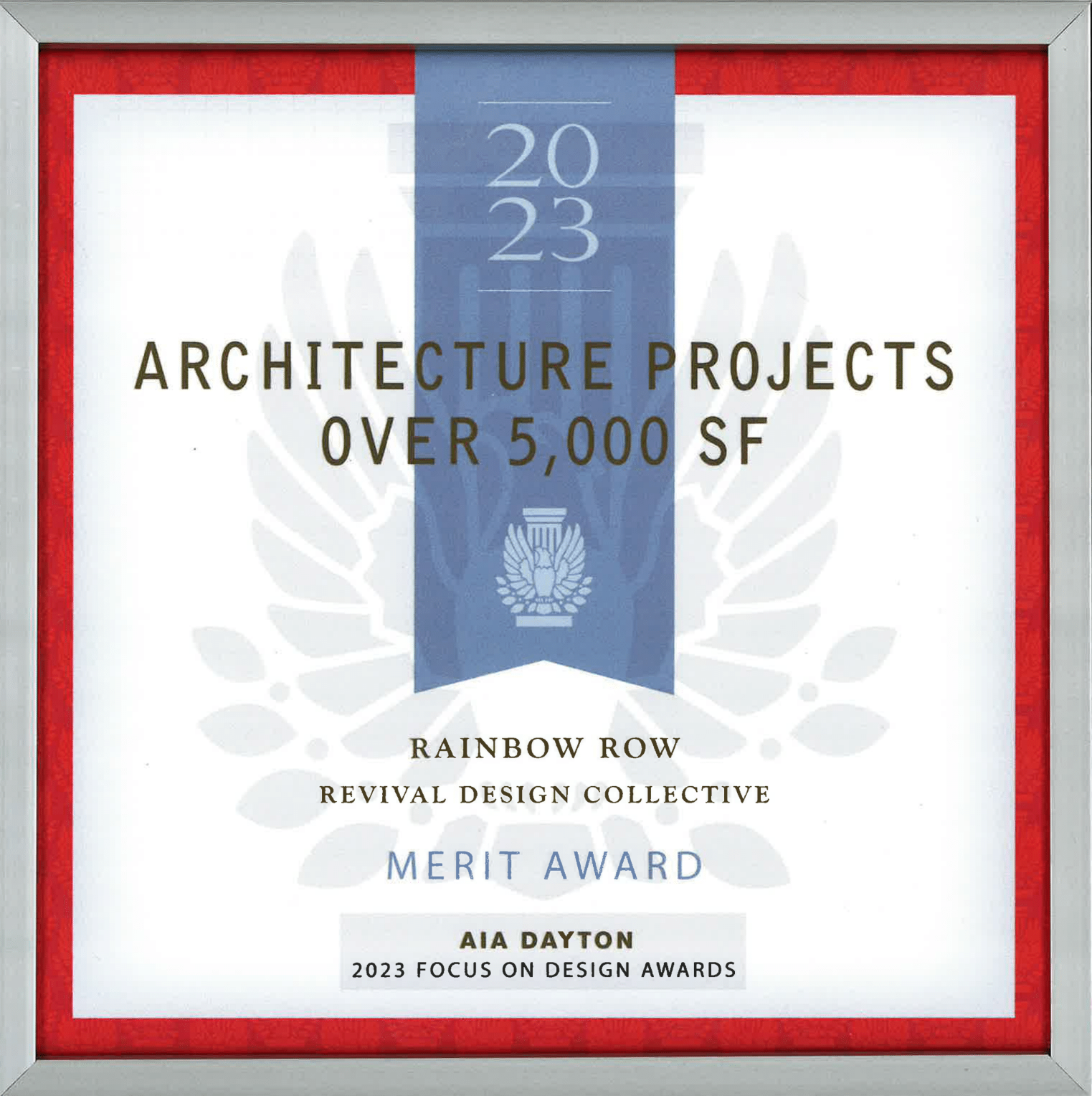 The American Institute of Architects recognizes projects based on its Framework for Design Excellence. Rainbow Row Bellefontaine was designed under the principles for economy and integration. Once a building sitting empty, it is now full of businesses in versatile and adaptable street-level storefronts with short-term rental units encouraging growth and tourism in the community. The color palette is distinguishable but cohesive, reflecting the uniqueness of each business. The porch railing design adds pineapple finials on the rail caps, reflecting the hospitality and city symbol of Bellefontaine.
"The concept of downtown revitalization may traditionally describe the long-term efforts and planning required to make incremental improvements in the streetscape of dense metropolitan areas and urban cores but feels equally appropriate for characterizing the transformation achieved in a single intervention by the design team behind Rainbow Row," said Evan Sack of AIA Central Oklahoma and Chair of the award selection committee. "The bright color palette is striking in its vibrance, tasteful in the selected accent color pairings for each section, and still reverent to the historic bones beneath. While the exterior is impressive in its own right, the transformation achieved is made even more compelling on review of the pre-construction existence of this once neglected piece of Americana main street. The new life given to this historic structure, and the downtown of Bellefontaine is a testament to the vision, determination, and passion of the Rainbow Row design team."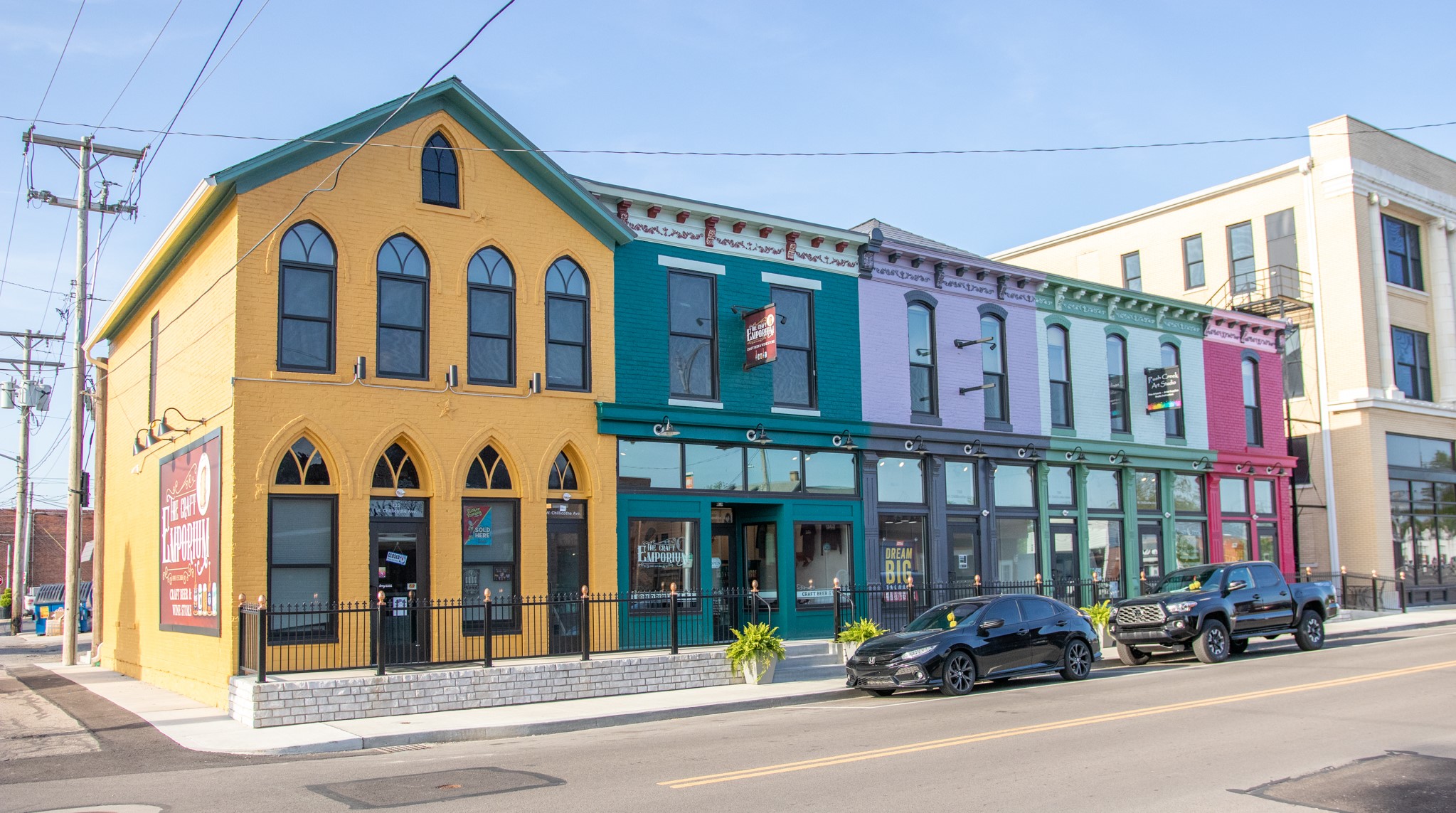 In the street level spaces, four new retail businesses have opened in Rainbow Row including the Craft Emporium, a craft beer and wine shop, Candy Craze, a fun and colorful candy store, Rush Creek Art Studio, offering classes and supplies for all skill types, and Eden Haus, a unique and diverse plant store. The Salty Swan Studio also opened as a luxury tattoo studio. Upstairs, the Flats at Rainbow Row, seven fully-furnished and beautifully-curated short-term rentals, are available to rent on Airbnb and VRBO.
"The Rainbow Row Bellefontaine project is a Small Nation and Revival collaboration at its best, striking just the right balance between paying homage to the past while injecting new life and creative energy on West Chillicothe, ensuring a prosperous future for downtown Bellefontaine," said Cally Lange, Owner and Principal Architect of Revival.
Revival Design Collective is headquartered in Coldwater, Ohio. In March 2022, they opened a second office in the Historic Opera Block of downtown Bellefontaine.
Jason Duff, Founder and CEO of Small Nation, joined the Revival team in attendance on Thursday.
"It was an honor to celebrate this achievement with Revival last Thursday night," said Jason. "This is a juried competition for national architects and a huge recognition for such a unique historical revitalization project. Thank you to Cally and Tim Lange, Lauren Knapke, and the whole Revival team for their contributions in making the project possible. Thanks also to our amazing contractors who made our plans happen."
Rainbow Row Bellefontaine is located on W. Chillicothe Ave. in downtown Bellefontaine. To learn more about the project and its businesses, visit www.rainbowrowohio.com or facebook.com/RainbowRowBellefontaine.