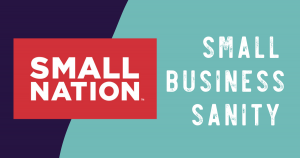 By Small Business Sanity – Shannon Reese
Feeling off-kilter during these uncertain … and unstructured days? You can do a daily self-check-in to help find your "center" and make sure you're okay. Our friends at The Ohio State University Health Plan share the importance of self-care during this quarantine time, and Greater Good Magazine offers a list of six "quarantine questions" to ask yourself each day:
1. What am I grateful for today? Take a couple of minutes and make a list.
2. Who am I checking in on, or connecting with, today? Pick three people to contact with a phone call, text or email – maybe a neighbor, your mom, a co-worker.
3. What expectations of "normal" am I letting go of today? Figure out what's most important to you and focus on that.
4. How am I getting outside today? Step outdoors. Sit in the sun for a moment. Breathe in the fresh air.
5. How am I moving my body today? Getting active can help you feel grounded. Take a walk. Dance to a song on the radio. Or stretch a little.
6. What beauty am I creating, cultivating, or inviting in today? Being creative can be helpful. Write in a journal. Draw a picture. Sing. Plant a garden. Or try a new recipe – whipping up a gorgeous cake might be just the thing you need!
Look for more tips next week!