This year, as we've all been staying closer to home, are there ways to improve our health, wellness and, frankly, our whole outlook?
Sure, experts say. Just move!
Moving your body is good for you, whether it's yoga or jogging, walking the dog, playing catch with the kids, or dancing in the living room. Along with physical benefits, it boosts your mental health and even has some plusses for your whole community.
Just ask Bellefontaine resident and yoga expert Emily Olsen.
"The way you feel when you get moving? There's nothing like it!" she says. "It has a ripple effect on the rest of your life, too. The more you move, the more you want to move … and the healthier you feel."
Olsen, who owned a yoga studio in Marysville for years, continues to teach at a studio in Dublin. She loves yoga's mind / body connection, and admits, "Nothing touches my soul like yoga."
Her second-favorite exercise is easy, accessible and always available, even if you're staying home these days.
"Just put on some music and dance!" she says. "It moves your body, and moves your spine and hips as you twist and dance. That's all good for you. Plus, dancing is cardio exercise, it lifts your mood, and it's fun."
She says physical fitness can even promote community wellness. "When we take care of ourselves better, we get a healthier community overall. We put good energy out to others, and improve the happiness level all around."
Lyle Endsley, owner of Anytime Fitness in downtown Bellefontaine, advises people to schedule an appointment with themselves to exercise. "Make a commitment to yourself and keep up a routine," he says. "You have to take care of yourself first so you can take care of others."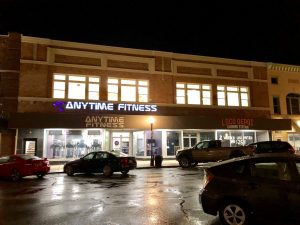 Endsley's first fitness center in Bellefontaine was located in a strip mall on the edge of town, but the Small Nation team suggested the move downtown. "Bellefontaine today has such an awesome vibe," Endsley says. "Downtown has really come alive and it's right where we need to be. We had a 35 to 45 percent bump in membership just from opening this central location. Plus, all of the business owners work well together and cross-promote each other's services."
Even with the COVID-19 pandemic, Endsley says business is good. "With 10,000 square feet of usable space, we have plenty of room for people to spread out, a good HVAC system and high ceilings. People feel very safe here."
Fitness is especially important as we head into fall and winter, according to Stefanie Morrow, RN, director of wellness and health coaching at The Ohio State University's Health Plan.
"A regular schedule of physical activity is mission-critical to my physical and mental health," she explains. "I do my best to schedule time to move throughout the day and include a variety of exercise options. I know how much better I feel when I keep my body and mind as healthy as possible."
Increased endorphins and a clear mind are two of the most important outcomes of being active. "There's no doubt that I feel better on days I make time for my personal well-being," Morrow adds.
But how do you get started? Experts say keep it simple if moving is new for you – start with a small goal and celebrate successes along the way.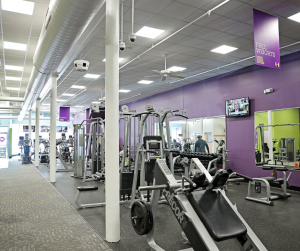 According to Olsen, it may seem intimidating to begin a routine if you've never worked out or if you stopped because of pandemic restrictions.
But, she points out, you'll feel better when you start moving … and it doesn't take long to kick in. "The shift can literally happen in 20 minutes. Take a walk; it changes your whole state of mind."
Endsley adds, "Sometimes the best workout is the one you don't want to do. It can make a bad day 100 percent better."