Downtown Bellefontaine is cooking up some holiday charm this season.
"Even though it's been a challenging year, Bellefontaine has that special holiday magic," says Ben Vollrath, president of the Logan County Chamber of Commerce. "There's joy and excitement everywhere, wonderful displays in the stores and windows, and happy faces and glowing smiles … underneath the masks."
Vollrath says he and his family are carrying on their favorite traditions this year, like opening advent calendars and making treats. "Cookie baking is always a big deal for us. Our favorite is a straight-up sugar cookie that's iced and decorated."
In town, the restaurants and bakeries are doing their part to keep the season as sweet as ever, too.
Angie Hall is making it a snap for families to create their own mouthwatering cookie masterpieces and sweet memories with her cookie kits.
Hall, who owns City Sweets & Creamery downtown, packages delectable cut-out cookies – in festive shapes like stars and snowmen, wreaths and reindeer. Carefully boxed up with three packs of colorful buttercream icing and lots of cheery sprinkles, the kits are all set for little hands and big imaginations.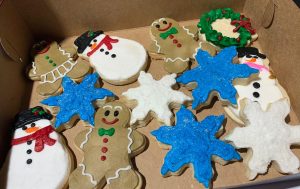 Hall says the kits are "baking spirits bright," and are ready-made boxes of fun that have been popular throughout the pandemic.
"They're great activities for parents and kids," she says. "Everybody likes our sugar cookies and the kits make for an easy afternoon project."
This time of year, City Sweets & Creamery's cases are also filled with mouth-watering goodies like peppermint brownies topped with white chocolate icing and crushed candy canes. Pumpkin rolls. Hershey kiss cookies. Lots of pies. Whimsical cake pops. And of course, its baked-fresh-daily donuts, delivered by 5 am each morning from Hall's other bakery — The Donut Shop in Indian Lake.
Hall, who works by day as a dispatcher at Bellefontaine's division of police, says juggling her diverse roles is a piece of cake. "I love the atmosphere of my shop," she says. "It's like a hobby that's come to life."
At home, she and her family carry on holiday baking traditions, turning out lots of cut-out cookies, candies and a perennial favorite, her peanut butter fudge.
Holiday flavors are on tap this season at Brewfontaine, too, where the restaurant's popular cheesecakes are flaunting holiday flavors, says executive chef Jason Plank.
The restaurant, which is well-known for the delectable dessert, is whipping up some irresistible Christmas-y varieties like raspberry white chocolate cheesecake and whipped-cream-topped peppermint cheesecake.
"We always try to push the boundaries of what goes into a cheesecake," Plank explains, citing popular versions like cinnamon roll, Reese's pieces, buckeye and Butterfinger.
At home, he's known for his cheesecake-creating skills, too, and traditionally treats his parents to a luscious white chocolate peppermint cheesecake at Christmas.
Plank grew up in nearby West Liberty, and went to culinary school in Pittsburgh. He sharpened his cooking skills at private golf clubs, restaurants and inns in the region before returning to Logan County and joining Brewfontaine.
"It was like coming home," he says. "It was one of the best decisions I ever made, and now I get to give back to the community where I grew up."
At 2G's Barbeque just down the street, it's pretty much business as usual during the holidays at Logan County's only authentic barbeque restaurant. Owner George Hunter says, "During the holidays, we just keep cooking."
Favorites are always the slow-smoked, fall-off-the-bone ribs, roast chicken, fried catfish, pulled pork … even frog legs.
George's wife, Vanessa, chimes in: "We're known for our ribs. George cooks outside, even in the snow. And not one order goes out without our wonderful mac and cheese."
Dessert, they both agree, is always the wildly popular banana pudding, created every day from a treasured family recipe.
George wound up in Bellefontaine when he moved from California, with $13 in his pocket, for a fresh start. He'd grown up with a love of cooking – his dad was a chef – and says he always knew he'd open a restaurant. "I just didn't know when, where or how."
The couple met while out in Bellefontaine one night ("Our eyes met across the room and the rest is history," Vanessa says) and ended up opening the restaurant together.
2Gs (for God and George, in that order, Vanessa stresses) has been in its downtown spot since 2012.
They both give a shout-out to the close-knit community. "It's truly a blessing to be in Bellefontaine," George says. "As small of a town as it is, the support from people and the community is unbelievable. I just never knew that people have so much love."
Angie's Peanut Butter Fudge
(from Angie Hall, City Sweets and Creamery)
3 cups sugar
3/4 cup butter
5 oz. evaporated milk
Bring sugar, butter, and evaporated milk to a full boil in a large saucepan over medium heat, stirring constantly. Cook until candy thermometer reaches 234 degrees F, stirring constantly to prevent scorching.
Remove from heat and add additional ingredients below. Stir until melted. Add
1- 7 oz jar of marshmallow creme
1-12 oz package of Reese's  peanut butter chips
2 heaping tablespoons of Jif peanut butter
Pour into a 9 inch square pan lined with wax paper.
Completely cool before serving. "Best fudge ever"