Small Nation is pleased to welcome Bo Alexander as the new Community Manager for BUILD Cowork + Space Bellefontaine, launching this fall in downtown Bellefontaine, OH. Bo has a background and experience in customer service, marketing, and technology, and will be a terrific asset and resource for the businesses and entrepreneurs who will live, dream, and create inside BUILD Cowork + Space.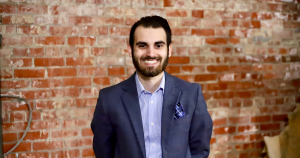 "What excites me the most about the Community Manager position at BUILD Cowork + Space is having the opportunity to grow a community of skillful entrepreneurs and business professionals, along with leading the workforce shift in working from home, into a coworking environment," says Alexander. "I have personally experienced how hard it is to work from home during these trying times (COVID-19) and it feels great to be part of a solution that will help so many local businesses."
The new BUILD Cowork + Space in the heart of downtown Bellefontaine takes a historic building and transforms it into a collaborative space designed to connect, inspire, support and enable small businesses, startups and entrepreneurs. The brainchild of Small Nation, BUILD Cowork + Space is slated to open this fall. Located in 8,000 square feet of space in a renovated historic structure, BUILD Cowork & Space features drop in desks, dedicated desk space, private offices and executive suites surrounded by all the amenities you'd ever need to succeed.
"The way people work is evolving … and it's going to keep changing. We're seeing fewer endless seas of corporate cubicles and more flexible, comfortable and shared spaces for individual workers," says Jason Duff, founder of Small Nation. "We want Bellefontaine to be at the forefront of the movement revolutionizing the spaces people will use for working in small towns."
For more information about available space and leasing rates, you can contact Bo Alexander at 937-565-0300 or bo@buildcowork.com.