June 16, 2023 – Members of the Small Nation team took a trip to our nation's capital this week to meet with business organizations and Congressional offices, advocating on behalf of small businesses in Bellefontaine, Ohio, and pro-small business policies that affects businesses nationwide. The trip was organized in collaboration with Karen Kerrigan, President and CEO of the Small Business & Entrepreneurship Council.
After a briefing with Karen Kerrigan on key pieces of legislation, the workings of Capitol Hill, and how various business advocacy groups are helping small businesses, the team was joined by Tom Sullivan, Vice President of Small Business Policy at the U.S. Chamber of Commerce. Conversations centered around regulatory modernization and the Chamber's Prompt Pay Pledge that encourages big businesses to pay small businesses quicker.
Small Nation was also able to meet with representatives from the House Small Business Committee majority staff and the Chief of Staff for the Senate Committee on Small Business & Entrepreneurship minority, as well as representatives from House Majority Whip Tom Emmer's office. These committees are focused on regulatory reform, helping families, and creating a new Rural Opportunity Zone program. Small Nation previously used the Opportunity Zone (OZ) program created in 2017 for redevelopment projects in downtown Bellefontaine. While urban communities received 95 percent of OZ funding, this new program is specific to economic development in rural and struggling communities around the country.
Currently moving through the House Ways and Means Committee are a few tax relief bills to help working families, small businesses, and restoring American competitiveness. These bills help to strengthen small businesses amid price spikes, worker shortages, and supply chain failures.
"Several important bills are advancing through Ways and Means right now," said Jason Duff. "These bills are related to research and development tax credits, stopping attacks on gig workers, mortgage interest deduction provisions and more. It was valuable to provide our perspective to Congress on how these policies affect Main Street."
"The Small Nation success story and how the team is helping small towns restore and revitalize their economies and Main Streets made a big impact on Capitol Hill," said Karen Kerrigan of the Small Business & Entrepreneurship Council. "The team met with top congressional committees and staff where they shared how small businesses are navigating economic challenges and opportunities. Such advocacy and engagement will have a direct effect on informing lawmakers and policy staff about the policies that are needed to boost small business growth and competitiveness."
In addition to committees and House leadership, Small Nation also got to meet with Congressman Jim Jordan and representatives from Senator J.D. Vance's office. Congressman Jordan's district encompasses Bellefontaine as well as many of the small towns in Ohio that Small Nation is currently consulting in. He currently also serves as Chairman of the powerful House Judiciary Committee.
"The Small Nation team's willingness to visit members of Congress and communicate what small businesses and Main Streets are facing is critical to our advocacy work in Washington, DC and makes all the difference in our success as advocates for entrepreneurs," noted Karen.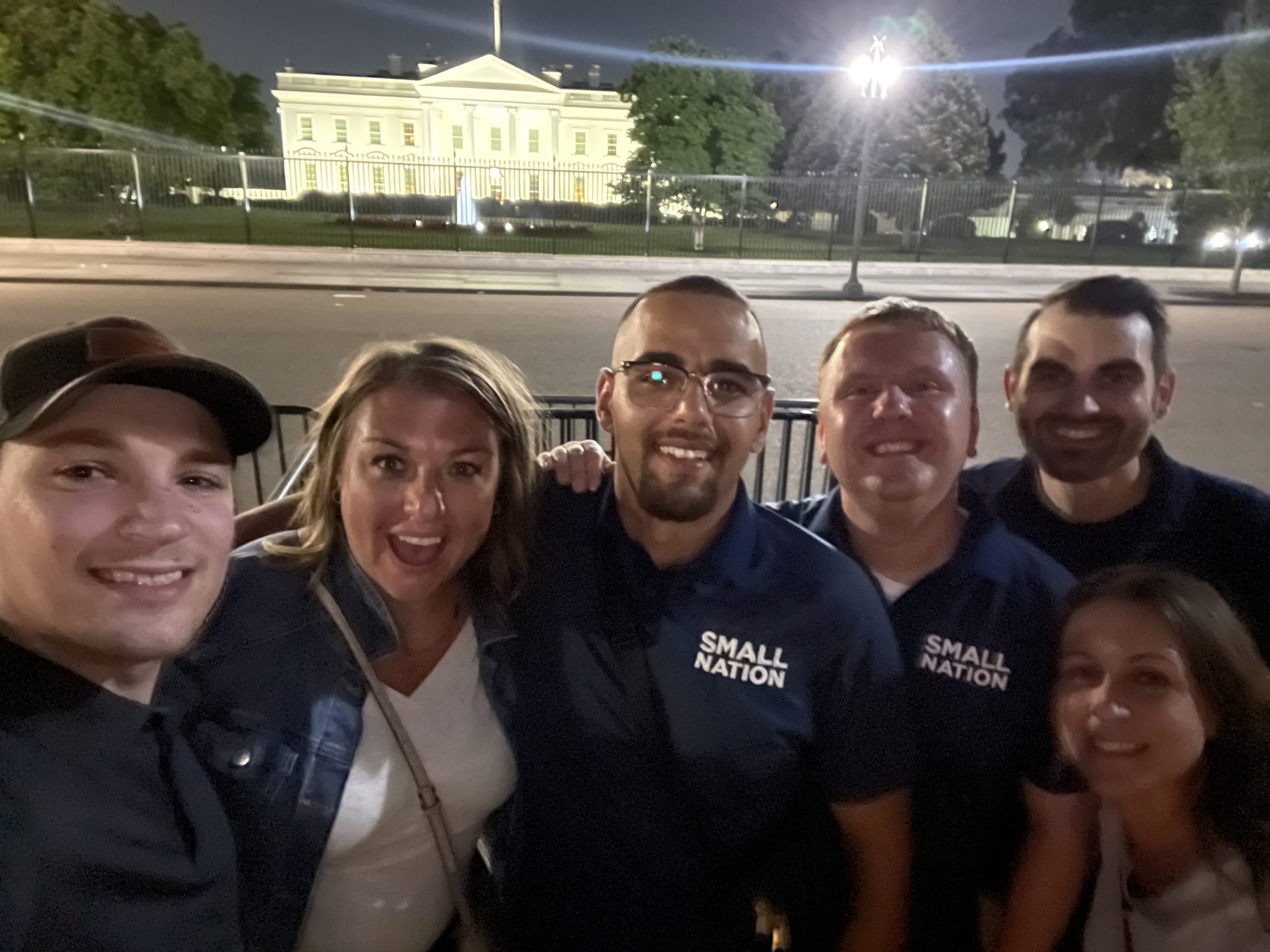 The trip wasn't all work, however, with half of the team taking their first trip to Washington D.C. The team had the opportunity to tour the National Archives, the Smithsonian National Museum of Natural History, and the many monuments and memorials around the district.
"I am so incredibly proud of this team and the work accomplished hitting the hill this week," Jason added. "We met key legislators and leaders who are advancing policy for small business. A special thanks to Karen and the grit and dedication she and the Small Business & Entrepreneurship Council are doing every day to be a voice for entrepreneurs and small businesses everywhere."
About Small Nation:
Small Nation develops places, spaces and dreams for small towns and small-town entrepreneurs across the country. They create revitalization concepts and plans for towns, create business concepts, brands, and workforce solutions, then market it all in the name of small-town success.
To learn more about Small Nation, visit www.smallnationstrong.com or follow them on social media at @smallnationstrong.