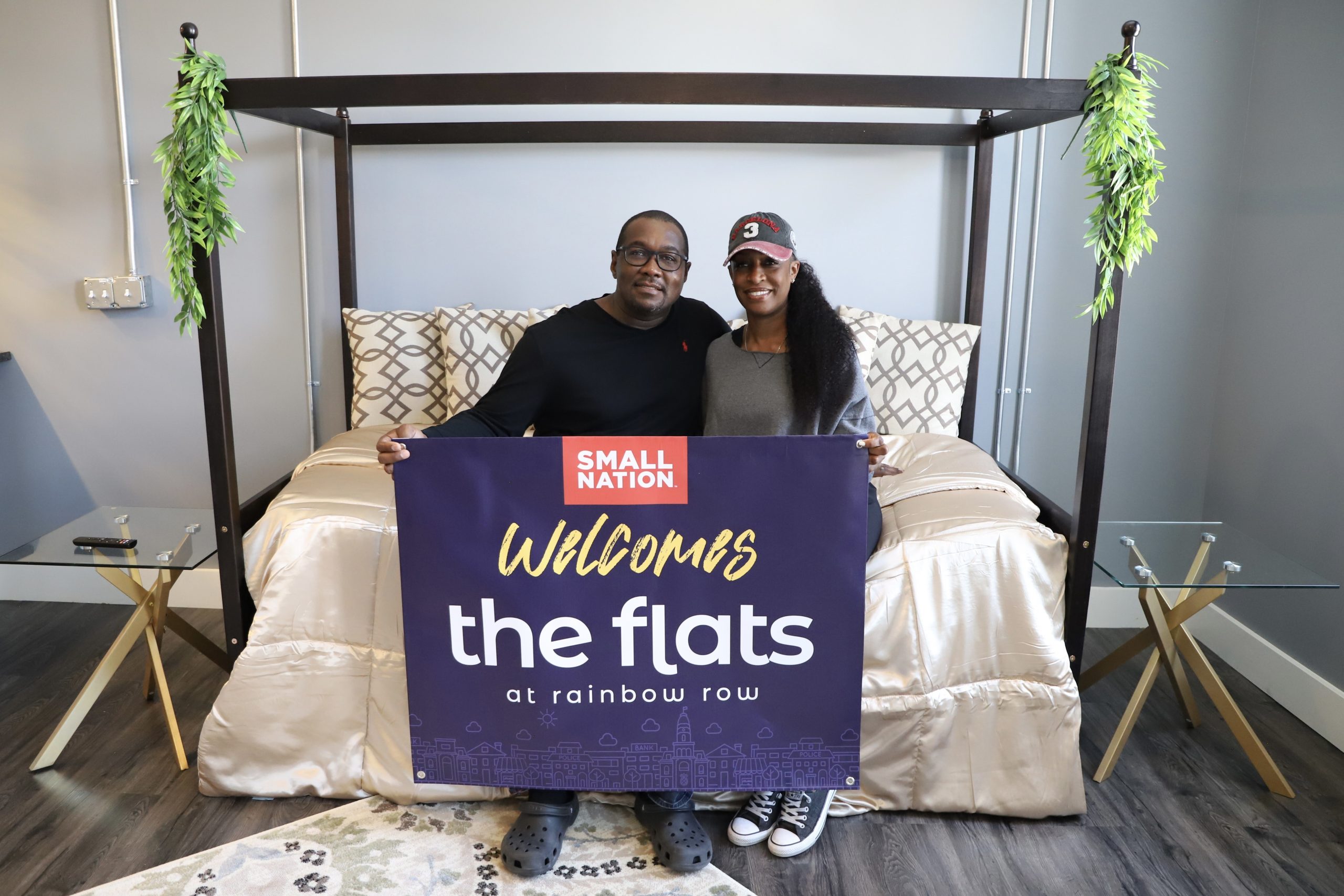 June 1, 2023 – This month, seven new short-term rentals will become available in Downtown Bellefontaine. Julie "Julz" Greene, along with her husband, Dr. Norman "Norm" Greene, will be opening these innovative rental properties on the second floor of Rainbow Row Bellefontaine on West Chillicothe Avenue.
Originally from Kingston, Jamaica, the couple moved to the United States for college. Though Norm had always expressed an interest in owning rental properties, Julz wasn't immediately sold on the idea, not until the concept of staying in a "home away from home" as opposed to a hotel clicked into place for her.
"Being able to personalize a space where guests can feel at home was the appeal to me," she said. "For Norm, it was customizing off-campus housing until COVID hit. We were forced to pivot and take notice of the Airbnb format, which worked perfectly for us both."
Norm and Julz's first Airbnb property, which she described as a "labor of love," was in Youngstown, Ohio.
Recounting the process, Julz said, "We flip-flopped on the idea of either renting to the entire public or being intentional on only making the property available for the healthcare travel industry. Norm travels for work, and when I tag along, the hotels, while quite nice, are very restricting. I hate to cook, but not having a kitchen to make a piping hot cup of tea can be a bummer."
It was a conversation with Keyne Strickland, Property and Leasing Manager for Small Nation, during which he expressed his preference for Airbnb lodging to a hotel, that Julz made a decision.
"Our conversation led to me sharing my intentions of seeking out property for Airbnb arbitrage, and Keyne provided a possible solution," Julz added. "He later reached out to share more information on the renovation project at the end of the block. The project turned out to be 'Rainbow Row Bellefontaine' aka 'The Charleston Flats' or 'The Flats' for short. Our prayers were answered in not only being able to rent one but seven units for Airbnb arbitrage. Jason Duff, the property genius, had already researched the need for housing in Bellefontaine, especially where the healthcare travel industry is concerned. We were sold!"


She continued, "Bellefontaine was not on our radar concerning building a business of any type. Our rental and Airbnb aspirations have always been in and around Youngstown, Warren, and no further than Cleveland. Rainbow Row was Jason's brainchild and, as far as properties go, we trust his expertise. We also love the Loft Above Airbnb owned by Jesse Lear of Epicurean Properties, so we became even more motivated to move forward with the Rainbow Row project."
Next, Norm and Julz had to start wrapping their heads around the idea of managing seven Airbnb properties, including how to decorate and promote them.
"It all fell into place during a food shopping run at Wal-Mart. I spotted a set of Asian bowls with chopsticks and said to Norm, 'What about theming The Flats after the seven continents?' There was no arm twisting involved; he agreed immediately."
Moving forward, each of the units will loosely represent one of the seven continents.
"We are also taking into account that the building housing the seven suites is the oldest in Bellefontaine, coincidentally right alongside the first paved road in the United States. The history is real, and it certainly adds to the special and unique charm of Bellefontaine."
The units will become available for rent on June 9, 2023. The Greenes will host an open house for the Flats on Friday, June 2, from 4:00 – 8:00 PM during the Pineapple Palooza.