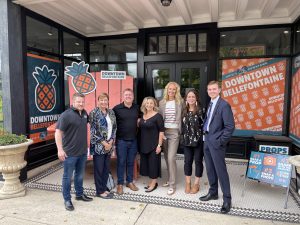 Lydia Mihalik, Director of the Ohio Department of Development, joined the Small Nation team for lunch at Brewfontaine on Wednesday to learn about the accomplishments of Small Nation in Bellefontaine. The Department of Development is the state agency in charge of overseeing economic development and job creation in the State of Ohio.
Joining Director Mihalik for a tour of Downtown Bellefontaine was Kimberly Murnieks, Director of the Office of Budget and Management, and Laurel Dawson, Counselor to the Governor of Ohio. These key officials are the Governor's leaders for economic development in the state and were especially interested to talk about keys to revitalizing our downtown and how we can work together to bring these results statewide. During their visit, these leaders toured BUILD Cowork + Space, met with owners of small businesses such as The Poppy Seed, PeachTree Boutique, and 600 Downtown, and discussed with Small Nation Founder Jason Duff the process of acquiring historic buildings, renovating them, and recruiting businesses to fill those spaces.
"There is something special happening here in Bellefontaine. Entrepreneurship is thriving and transforming this community. If you've not yet visited you HAVE to go see for yourself! The stories are in inspiring," Director Mihalik said after the tour.
"Director Mihalik is an incredible leader and we are thankful for her work and service as Director of Development for the State," said Jason Duff.