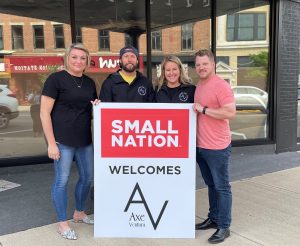 Over the years, 139 S. Main Street Bellefontaine has been home to many familiar names and businesses, The Belle Theatre, Sears, James Floors and most recently the Silver Elephant. Later this year, it will soon be home to Axe Ventura – a veteran owned Axe Throwing venue and entertainment destination. The current tenant at the property, The Silver Elephant will be moving directly next door to 137 S. Main Street in the Historic Opera Block.
Axe Ventura is owned and operated by Anthony Taylor and Shannon Kozyra, both Ohio natives. Concluding years of travel and two enlistments, the two found themselves back in the Midwest. Trying their hands at axe throwing on vacation kicked off the venture to bring the sport to others. Within a year, they opened the original venue in Ann Arbor, MI. They expanded to Findlay, OH in the fall of 2020 and are now excited to announce the third location in Downtown Bellefontaine.
"Axe Throwing has been a huge hit as a unique, fun and safe way to bring people together. We're worked hard be unique in the marketplace by hiring and training great people, creating experiences and fun events and locating in topnotch facilities in historic downtowns, said owner Anthony Taylor"
According to owner Shannon Kozyra, "Over the past year, we've toured a number of communities and properties to expand. We love Bellefontaine and believe it's a perfect fit because of its thriving Downtown and the fact that the property is in walking distance to several great restaurants, coffee shops and a brewery. We're excited to get started on renovations so we can open by the end-of-the-year."
Demo and interior renovations have begun. The developer Small Nation has hired architect Revival Design Studio of Celina, Ohio remodel the 4000 sq. ft. building to include 6 premier axe throwing bays with 12 targets, a full service beverage and snack counter and a large spectator area for viewing and tournaments. The back of the building will feature a fenced in patio and beer garden for private parties, meetings, and outdoor events.
"I'm in love with this project and the building is perfect for it. We're so excited to repurpose this beautiful historic theatre into an event experience and destination that will attract locals and visitors from afar, shared Architect Cally Lange of Revival Design Studio."
Axe Ventura focuses on bringing people together in a low-tech environment to bring back the idea of game night on a whole new level. The company prides itself on taking time to teach and help develop each skill level in order to provide the best experience. Whether you have been axe throwing for years, or are a first timer, the staff adapts to make sure your experience is memorable.
Guests will be able to make reservations or walk-in with groups of any size and age, including kids. The experience is perfect for families, bachelor/bachelorette parties, team building exercises, date nights, or any other occasion.
You can learn more about Axe Ventura on their website at: https://axe-ventura.com/ or Facebook page.
Press CONTACTS:
Shannon Kozyra, Axe Ventura
(616) 843-5660
Jason Duff, Small Nation
937.686.0214