Small Nation, a real estate investment and marketing firm in Bellefontaine Ohio, is pleased to announce that Doug Olsen will be joining the company as the Vice President of Real Estate beginning August 2nd, 2021.
Doug joins Small Nation with a background in real estate development, both as a licensed real estate agent since 2017 and personal real estate investments of several multifamily and commercial properties in central Ohio. "I'm mainly self-taught through personal real estate investing and development with the restoration of 6 historic buildings including 1st floor businesses and 2nd floor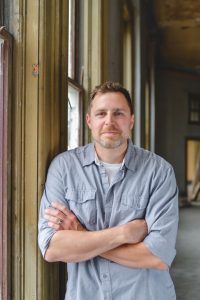 loft apartments, several multifamily 'value-add' renovations, and management of over 80 rental units," said Olsen. "I've also helped my wife plan/startup a yoga studio and am in the process of opening a brewery/ taproom Walking Distance Brewery."
Small Nation invests in places, spaces and dreams for small towns and entrepreneurs. "Buying, renovating historic real estate and supporting the success of our clients and tenants is at the core of what we do," Small Nation Founder and CEO Jason Duff says. "I couldn't be more pleased that Doug will be leading the real estate team.  Doug is an engineer and loves processes, he thinks methodically, practically, and can solve problems quick big and small – skills that support a growing team."
Olsen has been a partner and supporter of Small Nation for many years: "I've been following the work of Small Nation over the past 10 years and what's been accomplished in such a short period of time has truly inspired me and so many other communities, leaders, and investors like me."
Doug is excited to bring his knowledge and experience to Small Nation. Doug's primary responsibilities will be supporting and growing the success of existing clients, marketing of available real estate in the company's portfolio, oversight of the property management division, and continuing to grow Small Nation as a company and strategic partner in real estate and community development partnerships.
Olsen is a member of the Columbus Realtors Association, Ohio Craft Brewers Association, and the Union County Chamber of Commerce.
Doug thinks holistically and acts intentionally. "I'm motived by envisioning my future self," Olsen said. "Every day, I strive for small improvements for my family, relationships, business, and personal health." Doug also is committed to the future and has an outlook toward the legacy his work leaves behind. "If I leave my professional life feeling personally fulfilled and the people closest to me feel that I've had a positive impact on their lives, then that's a win."
Olsen is married to his wife Emily, and they have two children, Briggs and Ozzy. They reside in Bellefontaine, Ohio.