You've heard to never judge a book by its cover. But, most of us can admit that we're not perfect and are guilty of still judging covers. It's human nature.
Covers can offer good information, though, and that's not something we always acknowledge. While they don't offer you the whole story, there's usually a brief synopsis or summary, or some highlights to intrigue you. Covers still carry importance in the essence of a book. We need to start judging covers for what they're worth, not for the whole value. In those moments when books are lined up in front of you with no time to dive into each story, sometimes the best method of narrowing your choices is to judge the cover. Sometimes you must use the information on the outside to get an idea of what's on the inside.
Think Slicing.
Professional headshots are a lot like book covers. They present a summary of who you are and what you have to offer. Your headshot becomes your personal brand. They're not just for top executives these days either and investing in a quality headshot is investing in your career goals.
So, what does your headshot say about you?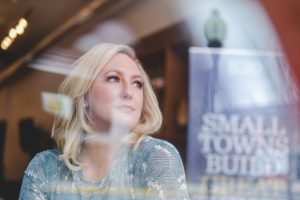 Rather than "judging covers," in the professional world, psychologists call such first impressions a biproduct of "think slicing." According to Giancarlo Pawelec, owner of PAWELEC Photo Inc. and writer of the LinkedIn article "The Importance of a Professional Headshot," think slicing is:
"Simply put, people decide all kinds of things about you within the first few seconds of seeing your picture and/or meeting you – from your level of intelligence to your socio-economic status…it all comes down to how the viewer slices the information gathered."
You might be asking yourself if this concept even applies to you and your industry. Regardless of where in life your skillset has taken you or has yet to take you, headshots showcase significant information about who you are. They tell the summary of your story; they shine light on your personality and what makes you, "you." Having a professional headshot is your opportunity to boast your own highlights and start intriguing others.
Personal Brand. Professional Image.
We live in a world where social media is second nature. We're surrounded by visuals and first impressions, whether we're conscious about the fact or not. Viewers are slicing information they gather left and right and the strongest first impressions are the ones to get noticed. It takes summaries that stand out to draw people into the whole story. Putting forth the effort for your summary to say you're strong, confident, and successful is worth the time and investment.
Pawelec goes on to say that, "Being a professional isn't entirely about one's educational background or the amount of money you make, but rather a lifestyle and mindset that differs from the ordinary crowd." You are representing your own brand, your own business through your presentation of self. When you use a professional photographer to capture that best self, your personal brand is only heightened through your professional image.
Covers still carry importance in the essence of a book.
Brand, BUILD, and Dine. Repeat.
On January 27th, BUILD Cowork + Space partnered with Susie Jarvis of The Photo Booth and The Flying Pepper to host Brand, BUILD, and Dine – Bellefontaine, Ohio's first coworking and professional headshot event. It was an event open to the public and perfect for anyone looking for more insight about small town coworking, update their profiles, or take their very first set of professional headshots and start building their brand. The turnout couldn't have been better which is why BUILD Cowork + Space is excited to host another!
On April 14th join BUILD, and The Photo Booth, for another day of great learning, great photography, and great food from the The Flying Pepper. You deserve to feel confident in your professional headshot and seize the opportunity to strive for those career goals. Check out BUILD Cowork + Space's event page for all the details and to register. It's time for your first impression to be the one that gets noticed.
Judging for what it's worth.
The next time you're in the running for a promotion or new position and recruiters have book after book lined up in front of them with no time for the whole story, let your cover be the one that makes a statement. Here's to judging covers for what they're worth.
To scheduled your session, click the link here https://photoboothbooking.as.me/buildyourbrand?fbclid=IwAR1qcK1DThDdOMDiQFAw1Jl6pE_oUNcNQsr922Zvxus0H-2m0LIdVSvLmbk