A familiar massage studio will be opening in a new space in downtown Bellefontaine for 2021.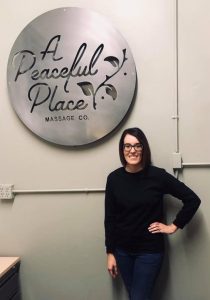 A Peaceful Place Massage Company will be opening February 2nd in a new location, behind Native Coffee Company at the intersection of North Detroit Street and West Columbus Avenue in downtown Bellefontaine. Currently located on Court Avenue, A Peaceful Place Massage will be transitioning to a state-of-the-art studio, with easy access to gourmet coffee before or after client's visits. The business originally opened on November 24th, 2018 above Sweet Aromas Coffee.
"Opening this business was truly a God moment," said owner Courtnie Shelby. "An opportunity came to me, so I stepped out in faith and pursued it!"
A Peaceful Place Massage Company offers a full suite of massage products, including fully-customizable 30, 60, and 90-minute massages. They are also specially trained in hot stone, cupping, and pre-natal massage.
"My clients always comment on the 'peace' they feel from the time they walk in to the time they leave," said Shelby. "I strive for that environment!"
Asked what potential events and collaborations she envisions for her business, Shelby hopes to offer specialized events in health and wellness – as well as the occasional excuse for a well-deserved pampering event for clients.
She stressed that some people can be intimidated, or perhaps do not think that massage is right for them. "It's for everyone," she says. "Every life style – whether it's for relaxation or more of a medical condition – can benefit from massage."
You can find A Peaceful Place Massage Company on Facebook – and even book your appointment there. They can also be reached via phone at 937-489-8191.