The transformation is underway and soon this block of three storefronts will be home to three new businesses in downtown Bellefontaine.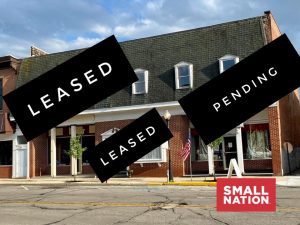 The trio of storefronts located at 117, 121 and 123 West Columbus Avenue was owned by Bill and Carole Barrett for many years. Small Nation purchased these over the summer and started renovations which will include a fun, healthy, smoothie bar; a full-service salon; and a real estate agency office. On the second floor there will be two newly renovated loft apartments that will be available Spring 2021.
In the storefront located at 117 West Columbus, Sammie Ropp and Melanie Hancock are opening Hi-Point Nutrition, a smoothie bar, by November 1st, 2020. Sammie owns and operates Downtown Nutrition as well, which is located in downtown Urbana and has been in business for 5 years.
Hi-Point Nutrition is much more than a smoothie bar, however. They will offer energizing teas with 3 different levels of caffeine to customize your energy needs. There are multiple delicious flavors to choose from – including Pomegranate- Berry, Just Peachy, Lemon Drop, and Fusion Burst! These energizing teas are packed full of vitamins & minerals. Perfect for the mom on the run, teachers, law enforcement, and everyone in between.
They also offer healthy shakes packed full of vitamins, minerals, fiber, antioxidants and protein, the perfect meal replacement for anyone on the move. A few of their most popular flavors of shakes include Banana Muffin, Orange Cream, Chocolate Covered Banana, Reese's, and White Chocolate Raspberry.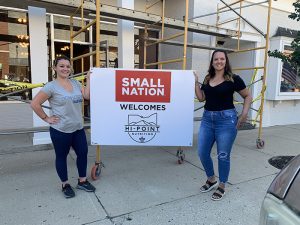 The space itself will showcase a new custom built 25 foot long bar where patrons can order and pull up a seat and enjoy while they work on their laptop, or engage with friends. Restored tin ceilings painted a glossy white with beautiful pendant lights throughout the space give it an elegant look and feel.
You can learn more about Hi-Point Nutrition by following them on Facebook and Instagram, and be sure to visit them when they open in November at 117 West Columbus Avenue.
Next door, Brandi Salyer purchased Hairloom Aetlier from Micki Wall and has rebranded the business for her new full-service salon – Undertone Beauty Bar.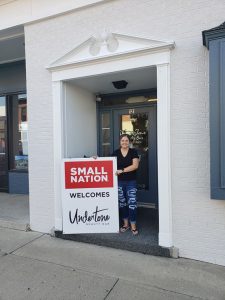 She is working with Small Nation on plans for a full remodel of the salon this winter, which will open up two more booths available for leasing. Her staff includes Darcy Tontonoz and Lauren Huffman, both are licensed cosmetologists, and are also in the process of obtaining their certification for eye lash extensions.
Additional future services such as Brazilian Blowouts, Balayage, color and color corrections, haircuts, styling, body waxing, hair extensions, manicure, Gel X, and pedicures are also coming with the new planned renovations.
Renovations will include new wax room, expanded dispensary room, additional retail shelving and more. Brandi is excited to be involved with the downtown and upcoming downtown events. You can learn more about Undertone Beauty Bar by finding them on Facebook and Instagram. Their address is 121 West Columbus Avenue.
Last, but certainly not least, a complete renovation of the former Band Aid Shoppe office space previously owned and operated by Bill Barrett who recently retired and sold the building to Small Nation. This renovation will include two new offices, a conference room, break room, and lobby. This new office space will be home to long standing real estate agency Choice Properties.
Choice Properties has been in business for 21 years here in Logan County, and they've had a Bellefontaine office for the past 10 years but are relocating to this soon to be newly renovated space at 123 West Columbus Avenue.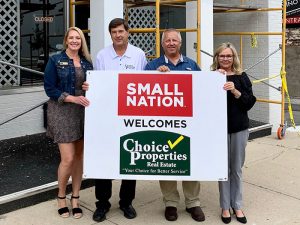 Broker and Owner Teri Frymyer is excited to be located on Columbus Avenue, sharing that Choice Properties is looking forward to participating in downtown events and being part of the growing energy along West Columbus Avenue and her new neighbors.
Agents Jennifer Simpson, Jim Macaluso, and Kris Suerdick are looking forward to utilizing the soon to be new office for appointments with clients, future closings, and having a storefront windows that can be used for promoting available residential and commercial listings.
You can follow Choice Properties online at Facebook and Linkedin!
Small Nation is also drafting plans for remodeling the 2nd floor of this three storefront building to include two new 2-bedroom loft apartments that will be available in Spring 2021 for lease.  These loft apartments will include all new flooring, ceilings, LED lighting, modern finishes, and open kitchens. All stainless steel appliances will be included, and there will be common laundry available for tenants to utilize.
If you're interested in being added to the waiting list for information on these loft apartments please visit the Small Nation website at www.smallnationstrong.com.