By Shannon Reese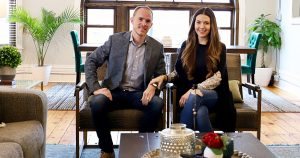 A palette of soft gray hues graces the loft's walls, interrupted by spans of rustic exposed brick in the historic building. Fine linens and plenty of soft pillows beckon from the bedrooms. A dazzling, 30-inch crystal chandelier sparkles in the arched front window. And as the morning sun peeks in, a European espresso maker bubbles and brews a steaming cup of joe.
This luxurious rental may be worldly, upscale and sophisticated … but it also offers the down-home friendliness of an Ohio small town. The unique cozy and cosmopolitan combo makes perfect sense to Jesse and Chelsea Lear, who recently opened The Loft Above, a posh space available for overnight guests in downtown Bellefontaine, Ohio.
"People tend to underestimate small towns, but we believe they offer a lot of untapped opportunity," says Jesse, "and we're thrilled to prove that luxury lodging can work – and thrive – in a smaller community."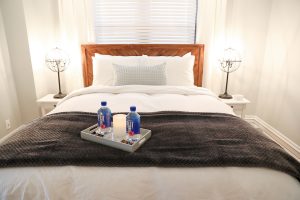 After all, he says, it's difficult for an up-and-coming place like Bellefontaine to be a destination if there are not many options for spending the night. "You can always find a place to lay your head, but at The Loft Above we strive to create an 'experience'– one that combines the comforts of a well-designed home with the amenities a luxury hotel."
The Loft Above does just that, thanks to Jesse's keen business sense and Chelsea's interior design skills. The result is a loft oozing with charm and character. It features a modern, "industrial glam" style and aims to delight guests with special touches, from imported Frette linens and Fiji water to Godiva chocolates and a Nespresso coffeemaker with authentic Jamaican Blue Mountain coffee … right in the heart of downtown.
The couple did lots of first-hand research to develop their unique brand. While first dating, they lived in separate cities in Ohio and Indiana … but were fascinated with the small-town allure of Bellefontaine. They were also impressed with the can-do attitude and entrepreneurial spirit shared by Jason Duff, founder of Small Nation, the driving force behind the town's revitalization.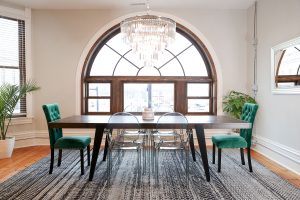 Jesse and Chelsea were quickly smitten – not only with each other, but also with Bellefontaine's quaint downtown. "I actually ended up proposing to her at Native Coffee," he says, of the coffeeshop conveniently situated just downstairs from The Loft Above.
Just after they were married, Jesse sold his previous business endeavor, a valet trash and recycling company based in Columbus. With newfound free time, the newlyweds embarked on a 'round-the-world, extended honeymoon. They made seven far-flung trips in one year, unleashing a passion for luxury travel and a new business interest in hospitality.
"We were ready for a new adventure, so we combined our skills and began curating Airbnb properties in central Ohio," Jesse explains. "We wanted to capture the feeling of staying at a high-end hotel and re-create it for our own guests with professional design, impressive amenities and uncompromising customer service."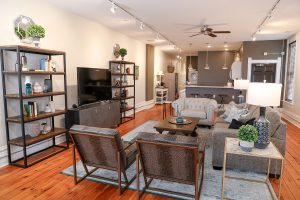 The couple manages 18 furnished rentals in urban spots around Columbus through their company Epicurean Properties. The Loft Above is their first venture in a smaller community … and bookings started coming in quickly. "It's been so much fun for us to open up here in Bellefontaine," Jesse says. "People appreciate a new, local business, and they seem excited to have a high-end lodging option downtown. Plus, I think they trust Small Nation – they know if the Small Nation team is involved, it's going to be good."
The couple quickly embraced the small-town vibe, too. "Support from other businesses has been amazing – that doesn't always happen in bigger cities," Chelsea says. "There's a great sense of community here."
The Lears say their goal is to give each and every guest one of the best lodging experiences they've ever had by providing lots of thoughtful touches and superb service.
A great cup of coffee never hurts, either.
To book a stay at The Loft Above, visit the reservations site.