By Small Nation
Not so very long ago, Tru-Edge – a manufacturing company based in tiny St. Henry, Ohio, which fabricates and reconditions industrial cutting tools mainly for the automotive, aerospace and orthopedic industries – used some rather rudimentary methods to find qualified employees. Primarily, says Brian Hackman, director of operations, the 23-year-old firm relied on word of mouth and a large sign planted out by the busy road.
Today, Tru-Edge targets highly qualified employees via a laser-focused, online local recruiting tool created by Small Nation … and the impact has been extraordinary.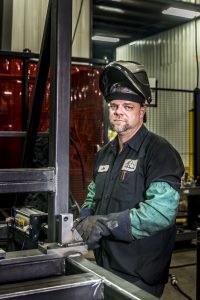 That tool – called Hometown Opportunity – effectively bridges the gap between jobs and job-seekers. "We need people for highly technical, skilled trades positions, which are in high demand in this area," Hackman says. "In the past, it was difficult to find qualified employees. We may have only gotten two or three applications a week. Now we get 10 times that number of highly qualified applicants that meet our needs.
"Hometown Opportunity is easy to use," he adds. "It's quick. It's targeted. It's local. And we know potential applicants are using it."
The Hometown Opportunity platform is an online workforce development program created for counties and local municipalities to tackle their workforce shortage issues and connect job seekers of all levels with local companies looking to hire.
According to Adam Rammel, vice president of sales and marketing, the platform was created when Mercer County officials came to Small Nation with a dilemma. "They had the lowest unemployment rate in the state, with companies looking to grow … yet those companies couldn't find employees to fill openings. At the same time, local people felt no jobs were available. It was a huge disconnect."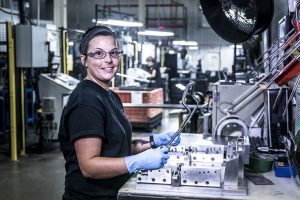 So Small Nation developed Hometown Opportunity to connect the dots. And it's working.
Last year alone, Mercer County posted more than 4,000 jobs on its Hometown Opportunity site, which covers a four-county area in western Ohio. "It's definitely the go-to resource for employees and employers alike to better connect with one another," says Jared Ebbing, economic development director for the county. "Some of the bigger job sites – like monster.com – are okay but they're so big people can get lost in them. Hometown Opportunity is a local resource, not just for jobs but also for branding and marketing the area. It's all about the community. Local companies. Local people. Local everything."
Jenn McCoy, who grew up in St. Henry, moved away to Dayton for college, earning a degree in finance and landing a job in the city. But after marrying her college sweetheart, the couple dreamed of moving back to the familiarity and quality of life offered in her hometown. "I absolutely wouldn't want to raise my kids anyplace else," she says.
So McCoy turned to Hometown Opportunity. "It was the only place I would go to look for a job because so many companies posted there. The site is easy to use, and I like how you can browse all the jobs available or set your search parameters by area, by county, by job type." She soon landed a job as a business manager at a company in nearby Celina, and the family – with four young kids in tow – happily settled in Mercer County.
The site itself includes a job board where companies can post open positions, a resume board where job-seekers can post qualifications, a section for local students to find career information, email alerts and a convenient mobile app.
"It's so easy," Hackman at Tru-Edge says. "All I have to do is click on the site, log in, post the job … and the applications start coming in."
Christine Purdy, director of human resources for Celina Insurance Group, says, "For me, it's a key recruitment tool. Every one of my job postings goes on Hometown Opportunity, from clerical positions all the way up to leadership roles. If I post a job on the site on a Friday afternoon, I'll have half a dozen applications back by Monday."
In addition to job and career information, Hometown Opportunity also features videos about various local companies – from large farming operations to manufacturing plants to healthcare centers – and paints a picture of what it's like to live in the area. "The website markets the area on behalf of the companies," Ebbing explains, "so they benefit from the broader marketing and branding efforts. It becomes a 'one-stop shop' for people to learn about the community, from jobs and schools to the arts, neighborhoods, even where the coffeeshops are."
He says the Small Nation team – which has designed similar online platforms for communities throughout Ohio and other regional areas – was instrumental in boosting his county's economic development. "Small Nation has a passion for making this concept work. They have the energy, passion, motivation, marketing and storytelling abilities. And, by the way, they know how to  develop a powerful website, the tool that makes it all work!"
The partnership doesn't stop once the website is up and running. "Small Nation is by our side for the long run. We communicate and share ideas constantly. They are our collaborators, our mentors and our teammates," Ebbing adds.
"Hometown Opportunity is by far the best economic development resource tool we have," he says.
Hackman agrees. "It's a no-brainer."
Small Nation's Hometown Opportunity is a customizable web platform specially designed for regions and municipalities that are ready to tackle and solve workforce issues. For details and a demonstration, contact adam@smallnationstrong.com .