For Immediate Release 01/08/2020
By Small Nation
Prescription Bliss brings affordable prescription savings to patients and chooses Bellefontaine, Ohio as new company headquarters.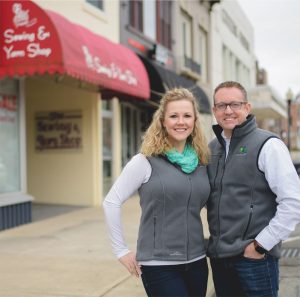 Prescription Bliss was founded in 2018 by Andrew and Jennifer Brewer in response to the staggering disparity between the cost of prescription medications and the corresponding insurance coverage. With one in four individuals experiencing difficulty affording their prescription drug medications and having loved ones of their own burdened by steep prescription prices, Andrew and Jen understood the real need for their services within a complex industry.
"Clients and patients shouldn't have to choose between filling a prescription and providing for the ones they love – we do our best to ensure they don't' have to! Our members pay a flat fee of $45 a month, which covers 100% of the medication cost and we work to cover as many medications that qualify" commented Andrew, co-founder and CEO.
In many cases, they are able to save patients thousands of dollars annually.
As a full-service prescription assistance organization, Prescription Bliss is committed to getting individuals the medications they need at an affordable price. They are not a savings card, nor do they provide supplemental insurance – they match qualifying members with specific assistance programs that mitigate high cost medications. With over 270 programs and 1,600 prescription medications and in their database, they are confident they can find a solution to fit unique prescription needs.
Prescription Bliss is invested in uncomplicating the prescription process for as many people as they can. They not only help individuals, but they also partner with employers, healthcare clinics and third-party administrators who are looking for a more efficient means to provide medication coverage for their employees, patients and clients.
"Choosing Downtown Bellefontaine was a perfect fit.  As a growing technology service company, we want our office and its employees to be in walking distance of all of the local amenities that Downtown Bellefontaine has to offer."
Prescription Bliss has an office location in Bridge Park district in Dublin, but instead of further expanding into the Columbus market, owners Andrew and Jen determined instead to locate their new location in Bellefontaine after seeing all that the community had to offer, including a great network of medical providers.
The new office will be located at 118 North Main Street next to 2g's BBQ and will feature modern appointments, technology and be able to accommodate several new employees coming aboard this year.
Small Nation will be remodeling the building with architecture design renderings by the Revival Design Studio.  The plans make use of the existing floor plan and feature updates with new paint colors, commercial lighting, awnings and commercial flooring.
The business is planning to open in April welcoming the addition of up to 6 new employees this year. Andrew and Jennifer are long-time residents of Logan County. When not working, they value family time with their five children, two dogs and enjoy traveling to new places.
Small Nation Leasing manager Matt Brown said, "This is another win for Bellefontaine and the level and kind of businesses coming to our community.  We are excited to welcome another great business Downtown."
Press Release contact:
Andrew Brewer – (877) 792-5477
andrew@prescriptionbliss.com