For Immediate Release on Tuesday, Dec. 31, 2019
By Small Nation
The Flying Pepper Food Truck has landed with plans for a new home in Downtown Bellefontaine.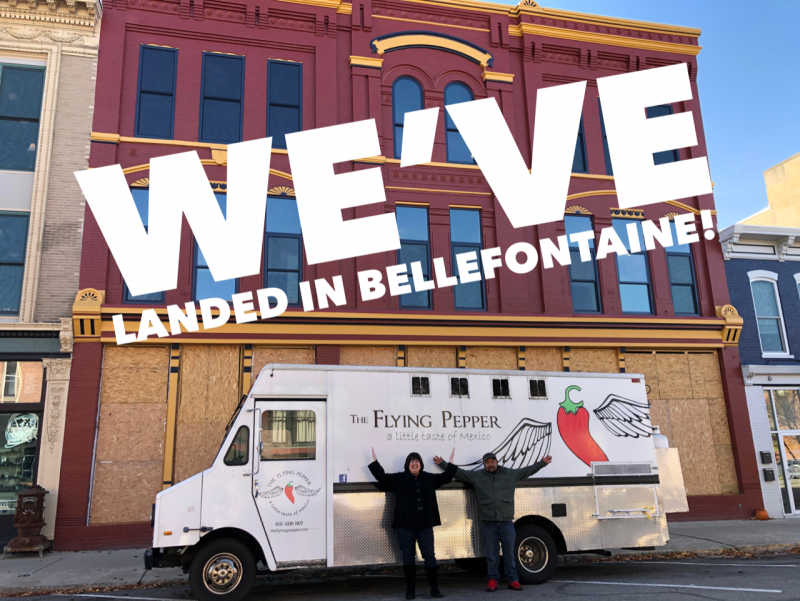 The newest restaurant to announce plans to open in 2020 is the Flying Pepper Cantina.  The restaurant will feature authentic Mexican cuisine with a modern twist, alongside a beautiful lounge at 137 W. Columbus Avenue.   The building was the former location for the House of Szechwan and prior to the Palm Grill.
The Flying Pepper is a recognized name because of the popular food truck founded by Humberto Nieto and Laura Haverkos in 2015.  The business has served up a variety of fresh, local and authentic Mexican food.  It is a regular truck at the Logan County Farmers Market and also does many events and stops in Urbana, Yellow Springs and Springfield.
Humberto's passion for food was obvious when he immigrated to the US in 2005.  He started with a box truck and spent the next year gathering equipment and saving money to open the business while working at Clark State Community College. After the business opened, demand grew more rapidly than anticipated and the decision to leave the college and pursue this venture full-time became a reality. The first day that The Flying Pepper opened their service window to the public was in August 2016 in Downtown Bellefontaine at the Logan County Farmers Market where fresh, local produce was utilized. Humberto stated, "Local food and farmers will continue to be a cornerstone of our business.  We couldn't be more excited to open our restaurant in the town where everything started."
The Flying Pepper will continue to operate the truck for special events but plans to make its main focus the new brick and mortar cantina location.
Small Nation Founder Jason Duff shared, "We couldn't be more pleased and excited to be working with such great operators and a type of food and experience that is missing in our Downtown.  Having a variety of unique tacos, small plate appetizers, tamales and a wide variety of unique cocktails and tequilas will be a welcome and unique addition to the Downtown restaurant scene."
Downtown Bellefontaine has also earned the reputation as a destination for great food and drinks.  With a wide variety of bars and restaurants and places to get coffee and desserts, many people drive more than 30 minutes making Bellefontaine a foodie destination.  "It's pretty obvious when you look at how full the streets are and also where the license plates are coming from," says Hayley Palmer, owner of Peach Tree Boutique.  "We love seeing and serving all the new out of town guests and telling them about all of the other places to shop and things to do while they are in town.  It's really working."
Renovations and revitalization continue on West Columbus Avenue in Downtown Bellefontaine thanks to a growing scene of entrepreneurs and the team at Small Nation.  Small Nation develops places spaces and dreams for small towns and entrepreneurs and over the past 8 years has been focused on improving and investing in Bellefontaine.   West Columbus Avenue has seen much of this growth and transformation with Kiyomi, Native Coffee, Nest1896, Putt & Play Golf Center, Peach Tree Boutique, The Poppyseed, Craft Paper Scissors, Hickory Direct Medical, Anytime Fitness and several other new businesses.
The Flying Pepper Cantina is expected to open in June of 2020.   For more information and progress updates, you can follow their Facebook page: https://www.facebook.com/flyingpeppercantina/