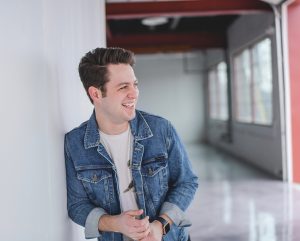 Tyler Berry's vision for launching The Olive Tree in downtown Bellefontaine is finally coming to fruition, but he's no stranger to the community and neither is his line of hand-blended tea products from Loosen Up Tea.
Tyler graduated from Benjamin Logan High School in 2017 and has been passionate about loose leaf tea since he was a young boy growing up and experiencing his grandmother's homemade garden mint sweet tea which he has included in his line of products at Loosen Up Tea.
He decided to make a business out of his passion for tea and helping others enjoy, come together, and relax over a glass of delicious tea. He launched Loosen Up Tea in 2018 and hasn't looked back yet.
Tyler traveled to shows across the country selling his blends in over 100 pop-up style events and festivals, as well as to local retailers in Urbana, Bellefontaine, and more communities throughout the region. His line of tea products now includes over 50 different types of blends, as well as Tipsy Tea line which offers tea-infused cocktail kits, with a variety of 13 different flavors that can be mixed with various alcohol choices.
What started as a favorite childhood experience thanks to Berry's grandmother, has now come full circle as he is opening The Olive Tree, located at 121 W Chillicothe Avenue.
Expanding his vision and creating a community within his own 4 walls has been much more than a goal for Tyler, it's been his life's work over the past couple years. And now that's a reality at The Olive Tree.
"The Olive Tree is a symbol of friendship and promotes love and harmony among people. Our store is filled with items that represent friendships that we have made along the way in our journey. Our retail product lines now include artisan olive oils, teas, spices, salsa, and tortilla chips, and so much more – all products are sourced through vendors that I've met at festivals or local partners and small business retailers that I have built relationships with," Berry explained.
Tyler works closely with the Logan County Farmers Market vendors, he has sourced locally produced products and now retails them in his store, and is continuing to grow his offerings as he builds more local vendor relationships.
His new location includes a covered patio area where you will find "live" clay sculpting, piano playing, and patrons sitting and enjoying a refreshing tea of choice. Berry's facility includes over 2,400 square feet of retail and event space where he will be organizing and holding workshops and classes for educating consumers on how to blend their own teas and much more.
The Olive Tree is celebrating it's Grand Opening on Saturday, June 27 at 3 PM at his new location at 121 W Chillicothe Avenue. You can follow The Olive Tree on Facebook and Instagram. You can find more information online at www.theolivetreebellefontaine.com. His hours of operation are Tues-Fri 12 PM-5 PM, and Saturdays 8 AM-5 PM. Closed on Sundays and Mondays.